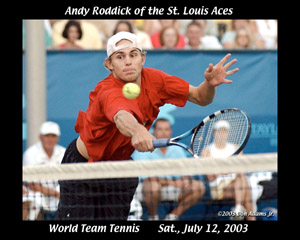 Welcome to my website— the electronic showcase of freelance photographer Don Adams Jr. Most of the photos you'll see on these pages were from freelance assignments I covered for the St. Louis Post-Dispatch, one of the most highly regarded and historically significant daily newspapers in the U.S. The bulk of my work is sports photography, but I also shoot a wide variety of news and feature assignments as well as concerts. Most of the images I shoot while on assignment—with the exception of recording artists and professional athletes such as Andy Roddick shown here—are available for purchase. If you know I covered an event but don't see the photos on this website, please contact me and I'll do my best to get them online.

From 1997 through 2008, I covered more than 200 high school, college, minor league and professional sporting events each year. These events included the 2009, 2010 and 2011 NAIA Swimming & Diving National Championships in St. Peters, MO, the NAIA National Football Championship in Rome, GA, the 2009 National Indoor Football League Championship in Billings, MT, the 2009 & 2010 Frontier League Championship Series, the 2004-2007 United Hockey League All-Star Classic events in Glens Fall, NY, Ft. Wayne, IN, and St. Charles, MO; the 2004 Frontier League All-Star Classic, Missouri River Otters ice hockey (United Hockey League), River City Rascals baseball (Frontier League), RiverCity Rage Football (National Indoor Football League), St. Louis Flight basketball (ABA) plus many St. Louis area high school games and Missouri state high school championship events. In June 2006, I photographed the 25th Annual Race Across America endurance bicycle race from Oceanside, CA to Atlantic City, NJ as a crew member/photographer for Team Heifer International. (Our tag team of four riders crossed the USA in 7 days, 4 hours and 9 minutes!)

Since 2008 I have been the official photographer for Lindenwood University athletics (lindenwoodlions.com), an NCAA Div. II powerhouse. Until recently, I served as the official photographer for XIIR Motorcylce Ice Racing (XIIR.com), River City Rascals baseball (rivercityrascals.com), and as the house photographer shooting concerts and sports for the 10,000-seat Family Arena (familyarena.com) in St. Charles, Mo. My photos appear on the organizations' websites, programs, trading cards, t-shirts, posters and yearbooks.

In addition to contributing more than 2,000 photos as a freelance photographer to the St. Louis Post-Dispatch from 1997 through 2008, my work has appeared in national and regional publications including Sports Illustrated online edition, ESPN The Magazine, Bleacher Report, Kansas City Star, Philadelphia Inquirer, Popular Mechanics Magazine, Air Force Times, Baseball America, Education Weekly, the Santa Barbara (CA) News-Press, Black Voices Quarterly, Ft. Wayne (Ind.) Journal Gazette, Eureka (CA) Times-Standard, Used Car News, the Emporia (KS) Gazette, the Suburban Journals of Greater St. Louis, the Belleville (Ill.) News-Democrat, and Motorcycle News (England). My photos can be seen in several books including St. Louis Sports Folks by Post-Dispatch writer Tom Wheatley, Gateway City Puckchasers by Darin Wernig and on websites throughout the United States and Europe.

As an experienced photojournalist and a former newspaper advertising director I am well aware of the news industry's demands for meeting deadlines and getting the shot that counts. The digital images I shoot can be transmitted anywhere in the world within minutes.

For more information on purchasing photos, discounts for large group or individual orders, or for hiring me for private assignments or publication work, please contact me at don@dajrphoto.com or call me at 314-249-4210.

Sincerely,
Don Adams Jr.